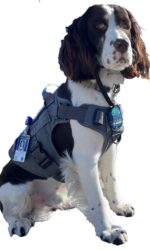 Bodhi (pronounced Bo-dee) means "awakening"
Bodhi Battalion believes that veterans can
realize a life they never imagined possible
with the proper support, connection, and a
canine partner

.
WHAT WE DO
The Bodhi Battalion believes in the unmatched power of canine connection to address challenges unique to veterans. The program uses a combination of evidence-based therapeutic practices and service dog training to create a parallel learning process. Our innovative methods provide the most supportive environment to develop long-lasting balance and recovery.
Our mission is to provide accessible resources, community connection,  mental health services, and service dogs to veterans experiencing challenges related to post-traumatic stress, mental health, isolation, and risk of suicide.
To create a comprehensive system of support and wellness through collaboration with like-minded community providers to address the challenges specific to veterans and create a united front against veteran suicide.
To foster independence for veterans struggling with PTSD and TBI.
What makes the Bodhi Battalion unique as a nonprofit is that we look at each veteran as a whole person to effectively address the reasons for their current challenges. By gaining a deeper understanding of the unique needs of veterans' issues, we can work together step-by-step to foster and maintain the components of a meaningful life. The Bodhi Battalion believes that canine involvement can provide the essential bridge to treatment that is so vital. In 2019 the Bodhi Battalion developed the P.T.S.D REDEFINED program, Providing Treatment (through) Service Dogs. This program allows veterans to interact and help prepare young service dogs in training for veteran matching and service placement. Our program utilizes critical cognitive and mindfulness-based techniques to create a parallel learning process that generates the most beneficial and welcoming environment for restorative therapeutic progress. Many organizations offer service dogs, and many offer therapy, but the Bodhi Battalion utilizes both to create a deeper, more enduring model of healing.
Donate and help us help veterans
Thank you for your consideration.